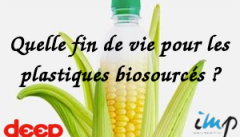 Research
Which end-of-life for bio-sourced plastics ?
Which end-of-life for bio-sourced plastics ?
conditions and consequences of bio-based plastics valorization on actual solid waste treatment options
INSA's scientific leader : Remy Bayard - Valérie Massardier (IMP)
Project Leader : Remy Bayard
Call for Proposal : RECORD - Programme 2019 (n°1-12/2018)

Montant financé : 40 k€
Funding Institution : RECORD
Dates - Duration : du 05/04/2019 au 06/04/2020
Parteners : IMP (Laboratoire Ingénierie des Matériaux Polymères)
Key Words : Plastiques biosourcés, fin de vie, recyclage matière, traitement biologique, biodégradation
The industrial demand for bioplastics is increasing because of the need to develop a society that is less dependent on fossil resources. New products are being developed to meet the demand for production of consumer goods and equipment and meet regulatory and societal demands. Diversification of bioplastics requires consideration of their integration into current (and future) processes for the treatment and recovery of solid waste: mechanical recycling, chemical recycling, biological recovery of material and / or energy (composting, anaerobic digestion). Based on a detailed review of the scientific and technical literature, and feedback from industrial experiments, this study aims to identify the consequences of the presence of bioplastics in the solid waste treatment sectors and to identify research and development issues favoring their effective integration into current and future value chains of circular resources.